I ordered a Pebble as a late Xmas present for myself.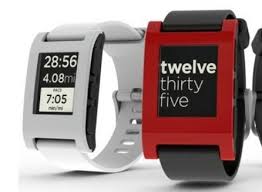 It's a nice bit of hardware - eInk display, 80MHz ARM CPU, three axis accelerometer and bluetooth to connect to a phone, all in less than 50 grammes.
Out of the box it has some fancy watch faces and the ability to display notifications from apps running on the phone, so inbound SMS or facebook updates display on the watch.
But it also has a fairly decent SDK that lets you develop native apps to run on the watch in C, and talk to either native phone apps or portable javascript apps hosted by the phone, to give a configuration UI and to get access to geolocation and web services.
Half an hour in I have "hello world" running on it. This might be interesting - though it's been years since I've written more than a few lines of C.